This past 14-18 July, the small village of Barolo came to life. Within its small cobble stone alleys, majestic Castello and friendly wine shops, its 750 inhabitants welcomed more than 100,000 people to celebrate "Il Collisioni", a festival focused around the "colliding" of literature, music, food and to my delight…Italian wine, all in one grand event.
Big names such as Elton John and Mika rocked the stage this year while previous names have included Bob Dylan, Jamiroquai, Sting and Paolo Nutini. Writers, comedians, story tellers and an appearance this year by wine critic and Barolo authority, Antonio Galloni, further fleshed out the 4-day event.
Approximately 70 wine experts and Italian specialists come together as well to celebrate Italy's vinous glory. When I was invited to be amongst this interesting and diverse group of people, I could not resist. Though Italy has many incredible wine regions, Piedmont is what the French might describe as my "coup de coeur", the region whose wine makes my heart race the most.
For one solid week, we visited wineries, met winemakers and had a number of regional or varietal tastings of wines from and out of the region and discussed contemporary issues. It was truly a Bacchanalian feast!
As we were fairly numerous, not all of us participated in the same tastings and events. I have written about three of my favourites.
Dolgliani
Dolcetto's grand cru terroir lies in the southern area of the Langhe called Dolgliani. Here, the hills are a bit less dramatic compared to those of Barolo, but still beautiful. While Dolcetto is getting less and less attention in Barolo and getting grafted over or replanted with Nebbiolo, in Dolgliani it reigns supreme.
On these particular soils and in Dolgliani's micro-climate, Dolcetto can attain an impressive level of complexity and density. This is not the land of light, juicy Dolcetto that is meant to be drunk within the first few years of life. Rather, their wine is often capable of ageing and developing. This is why in 2005 the status for its Superiore wines was raised from Dolcetto di Dogliani DOC to Dolgliani DOCG (without Dolcetto in its name) and then in 2011 for all of its Dolcetto wines.
Luigi Einaudi, a famous Barolo producer also located in Dogliani, opened their doors to us featuring some of their wines alongside those from 7 of their neighbours. The tasting was followed by dinner where older vintages were poured.
It was a spectacular location for a tasting. With vistas overlooking the surrounding rolling hills and vineyards alongside a wine bottle shaped pool (part of their estate is used as a boutique B & B), one could not feel more in wine country.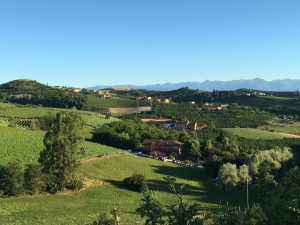 While a number of wines were impressive, here are a couple that stood out:
Dolgliani Luigi Eunaudi 2015 – they produce 2 Dolcettos and this is their lightest and freshest with no oak, but only stainless steel vats are used in its vinification and ageing. Youthful with notes of raspberries and black cherries, it offers a juicy style of Dolgliani that is lighter to the touch. It still will need another year for its structure to soften some, but will provide lots of pleasure over the next 5 years. 88 points.
Anna Maria San Bernardo Superiore Abbona Marziano 2013 – This Dolgliani was a blockbuster. Dense and opaque with lots of sweet fruit and spice. Despite its richness, it offered excellent lift and poise while its finish was long and caressing. Shy of alcohol, it is not at an incredible 15%! But with a little chill on it, it remained balanced on the palate. This is their most complex Dolcetto and no doubt one of the most impressive of the region. 91 points.
Nascetta
Nascetta is Piedmont's new white starlet. It was rediscovered fairly recently in 2010 through the University of Turin who found some plantings in Novello and since then, there has been a renaissance around it. Even an association, Indigenous Langa, was created around promoting and educating about this variety. While it may eventually include other lesser known varieties, at the moment, Nascetta is its diva.
Two different DOCs exist for Piedmont's Nascetta – Langhe Nascetta di Novello, for those vineyards at its original source, and Langhe Nascetta, for the rest of the plantings. Currently more than 20 different producers have embraced this grape and there will no doubt be more to come.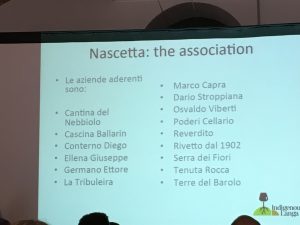 So, what is Nascetta? Well, based on the 13 wines we tried, it was a bit difficult to tell as some many of them were completely different from one another in terms of aromatic profile, texture and density. It is no doubt a grape that producers themselves are still learning about in terms of winemaking, viticulture and vineyard location. However, based on these several showed similar traits and from these wines and the success of some (and lesser success of others) I could possibly deduct the following:
-Nascetta is a moderately aromatic grape, offering notes of peach, kiwi, flowers and perhaps a lick of spice in its youth. With some age, it tends to lose these primary aromas and become more Riesling-like with some "kerosene" or "petrol" notes surfacing.
-Being already fairly aromatic, it may do best when not fermented with any aromatic yeasts nor at too low of a temperature. Some wines were a bit too "candied" with banana flavours surfacing above all else. I preferred those wines that had an authentic feeling about them rather than confected ones.
-Nascetta needs good ripeness, but needs care so it does not get too ripe. One of the wines we tasted could have easily passed for Sauvignon Blanc. It was the only one but once it was on the palate, it became fairly clear that the grapes just had not ripened enough as it also displayed a raspy, almost astringent acidity. However, producers also noted that it is a variety that can easily reach 14%. In order to embrace Nascetta's fresh, poised side, I would think hovering around 12.5-13.5% would possibly create a better wine.
-Producers also stated that it is not a variety that oxidises easily so as a result can be aged longer than Arneis or Favorita – a positive trait.
So, while producers are still trying to understand this unique grape, there were several that I enjoyed. These were my two favourites:
Nascetta La Tribuleira 2014 (12.5%) – A fresh, clean and bright wine that offered notes of white pineapple and subtle spice. Despite being from a lesser successful vintage due to the cool and less-than-sunny weather, it has a respectful amount of fruit flesh. Nicely done. 89 points.
Nascetta Enrico Rivetto 2013 (in screwcap) – This was the most aged Nascetta at the tasting and it was also the 2nd time that I tasted it during the week. If this is what Nascetta is capable of, I say please plant some more! This may just happen since Enrico is the one who started the Nascetta association, Indigenous Langa.
His 2013 opened up with some sweet notes of yellow plums, gentle smoke and spice. On the palate, it was fresh with an appealing salty tang on the finish and a tinge of bitterness which gave added depth rather than detracting. 91 points.
Alto Piemonte (Upper Piedmont)
This was the first tasting I have ever done of Piedmont's most up and coming sub-region, and it will certainly not be my last. While so many of the oooh's and aaah's go to Barolo and Barbaresco, it can be easy to forget that there is another Nebbiolo-dominant wine region that lies approximately 150 km further north of Barolo. However, in the 19th century it was this region rather than the Langhe that received most of the attention.
There are 2 DOCGS which are understandably the most famous – Gattinara and Ghemme – as well as 8 DOCs – Colline Novaresi, Coste della Sesia, Valli Ossalane, Fara, Lessona, Bramaterra, Sizzano and Boca. Unlike Barolo and Barbaresco, many of their wines have supporting roles. While it is mostly Nebbiolo-dominant, other grapes such as Vespolina, Croatina and Uva Rara often contribute to a wine's perfume, colour or structure.
Since Barolo and Barbaresco are commanding higher and higher prices these days, this is the new Piemontese region to watch. Not only do the wines often provide excellent value, but they also produce a style of wine that does not need 15 years or more to give pleasure. For fans of Nebbiolo that are less patient, this would certainly be excellent news.
I was expecting top quality Gattinara and Ghemme, and I was not disappointed. What opened my eyes were how delicious and terroir-driven some of their other DOCs were. One could really feel the stylistic differences amongst them.
While there were many fab wines, these are two of my favourites which really impressed.
Bramaterra DOC Le Pianelle 2011 – Produced from 80% Nebbiolo, 10% Croatina & 10% Vespolina, this medium-bodied red was nicely endowed with a juicy cherry palate that further offered lacy notes of brown sugar and savoury flavours of roasted meat. Its soils have good amounts of salt as well as red iron and this could be felt in its overall structure as it displayed precision and lift (salt) and open, attractive aromatics (iron). 90 points.
Sizzano Chiovini Paride 2011 – Comprised of 70% Nebbiolo 20% Vespolina and 10% Uva Rara, this sappy and appealing wine immediately struck a chord with me. Open and aromatic with notes of spicy cinnamon, crunchy sweet cherries and warm scents of earth. Lovely round tannins that lead to a refined but sassy "Drink more!" finish. Only 2000 bottles of this wine were produced. 90 points.
Progetto Vino
The Wine Project is organised by Dr. Ian D'Agata who wears a number of different hats in his professional life besides that of Il Collisioni's Wine Director. He is also Vinitaly's Scientific Director, but he might be most known from his writing for Vinous Media, where he is Senior Editor and Regional Italy expert as well as author of Native Wine Grapes of Italy, a book dedicated to over 375 of Italy's beautiful, fascinating (and complicated) indigenous grape varieties.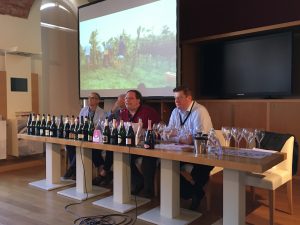 For those of you who have never had the pleasure of meeting Dr. Ian d'Agata, you are sorely missing out. Not only is he arguably the most knowledgeable person about Italian wine, but he speaks with such approachability, depth and passion. He is by far one of the humblest greats I have ever met.
So, I am excited to see what next year may hold. Bravo!