I have always been one to say "drink what you like regardless of food". While I still embrace that philosophy, it is possible that I just never really understood the true influences that wine and food can contribute to one another, apart from an ephemeral moment of magic.
But my eyes have now been opened. I have just spent the most enlightening 5 days tasting in a wine competition outside of Sydney, Australia in the majestic Blue Mountains. While I have participated in a number of different competitions from Decanter World Wine Awards in London to others in Madrid, Berlin, Sofia, Bulgaria, Verona, Italy and Sierre, Switzerland, what made the Sydney International Wine Competition so very different from those is that the wines are not merely judged, but also rated on how well they go with food.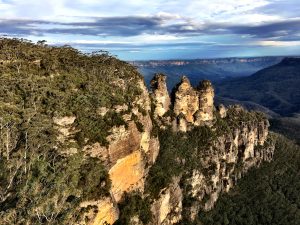 This seems an obvious goal on many levels but most competitions do not work like this. The flights are poured and each wine is rated one after another…and then more flights come. If a wine is quite tannic, alcoholic or acidic and probably would be better with food, one just has to imagine how it could be different. But at the Sydney International Wine Competition, one can see how it is different first hand.
Tasters come mostly from Australia or New Zealand but a rotating roster of guests such as myself or elsewhere are also fortunately welcome. We all have various backgrounds – some of us are winemakers, professors at oenology universities, wine writers, wine consultants, holders of top positions in wine companies or are not even in the trade at all but have such extensive experience with wine on a personal level that the knowledge is there.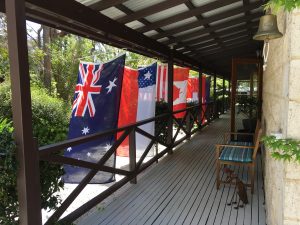 The first 2 days were spent tasting through varietal flights and choosing only the top 20-30% to participate in the final food tasting. Pairs of us tasted through different flights, totalling between 150-170 wines per day. The first half of the third day was to re-taste the winners from the first round in order to divide them into a graded scale of light, medium and full-body, naturally creating flights of wines that would be eventually paired with a dish created for its weight. In doing so, we created what is called a "snake", lining up the wines in a type of serpent-like shape in order to fit them all on the sorting table in their respective order of strength. It is Australia, after all, where snakes are plenty!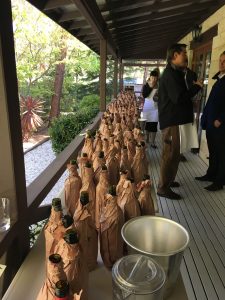 Though wines from Australia certainly dominated the entries, we also had entries from New Zealand, France, Germany, Italy, Spain, Portugal, Chile, Argentina, Israel, the US, South Africa, Turkey and Austria, representing an impressive 65 different grape varieties. This makes it all the more challenging for food pairing as many wines from Australia will have far bolder flavours than a wine of the same weight from France, for example, which are generally far more discreet. Weight is not really determined by flavour components but rather by alcohol level, the amount of tannins, residual sugar and just a feeling of overall body.
Six to seven tasters will taste through each flight which will then be paired with a hopefully appropriate dish to see how that dish interacts with the food. For example, our light bodied red flight (mostly Pinot Noirs) was paired with pink duck breast accompanied by a gently spiced pumpkin purée while our full-bodied white flight was unusually paired with veal accompanied by tarragon jus and broad beans.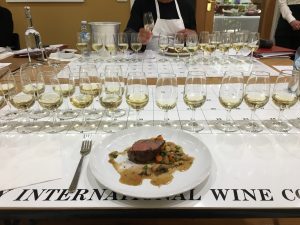 Here are 8 general observations from the various flights I tasted through or previous thought reconfirmed by this tasting:
Wine needs acidity to go well with food. Acidity not only allows a wine to better integrate with food so that they become "one" but it also helps a palate full of flavour taste more layered. It is a bit like adding lemon juice to a recipe that feels a bit lackluster. Lovers of big, rich low acid wines will probably be missing out on the most synergetic dining experiences. These types of wines might be more enjoyed on their own or with simple food (a grilled steak with a rich Shiraz for example), but the dishes to choose from become much more limited and still might not give a "match made in heaven" experience.
Note: When acidity is present in both a wine and a dish, it does generally need to match each other in intensity. When either are stronger than the other, the lesser one can often taste sweet and/or flat, which may not be the desired effect.
The right food can make even a simple and ordinary wine taste more complex than it is. I was amazed that a dish could "lend" its flavours to a wine so the wine in itself became more interesting. The more synergetic experience bumped up the final score of many initially lesser scoring wines.
Just like acidity, intensities of flavours also need to be matched. This made some of our pairings more challenging. Quite a number of wines were bold Aussie Shirazes or Cabernet Sauvignons with full-on aromas of rich spices and dried fruit. But alongside them, we tasted other wine such as Aglianico, a firm Italian red, which had a similar tannic structure, but was far more discreet in flavour. All full-bodied wines all were paired with a venison stew accompanied by polenta and mixed mushrooms – quite Italian. Most of the rich, fruity New Wines dominated the dish, even its gamy character, suggesting that something even more bold, such as a grilled steak or maybe a teriyaki dish would have been needed to match these wines' flavour intensity. However, the Aglianico was just right.
Highly oaked wines tend to go less well with food. High levels of oak can dominate the fruit in a wine and also add more structure and sometimes even bitterness. When paired with food, oak can often stand out even more, making a wine's oak component feel clumsy and less integrated…and that is the opposite of what is trying to be achieved.
Pairings are better when the flavours of a wine with the flavours of a dish. This sounds obvious, but it is important. If a wine tastes of cherry, why not find a recipe that has some cherries in it? The same thing could be true of truffles, spices or other perceived flavours. The two will enhance one another creating an even more dynamic experience.
Salt really does make wine more tannic. I love salt. While unpopular to admit, salt can breathe life and lift into food. One of the reasons to pair wine with food is to balance them out, particularly in terms of their tannic structure. But some of the textures of the big red tannic wines actually became worse (or at least neutralised the effect of the meat and fat) when I took a saltier bit of a veal chop. And I found it really detracted from the overall experience.
Successful food and wine pairing is not always obvious. We were presented wines that seemed like they would not work but did. For example, out of the bolder reds with similar flavours and structure, some worked fairly well with the accompanying dish while others not at all. This just further shows how challenging food matching can be and how complicated food chemistry is underneath it all.
When a food-wine pairing really works, it can be amazing. The most successful pairing that I experienced at this event was a flight of sparkling wines, many Champagnes styles accompanied by a crab salad with lime mayonnaise and avocado. The saltiness of the crab, paired with the citrus freshness of the lime and the creaminess of the avocado made many of the wines soar. Even some Proseccos and a sparkling Riesling worked well with the match, though the richer, high acid Champagnes worked best.
I will no doubt continue to open what I want to drink regardless of what I am eating because frankly, food and wine pairing requires a bit of work. One needs to know the wine well beforehand or at least taste it beforehand and know not just a recipe, but how the components of a recipe taste when they all merge together. But I was truly delighted to learn and be enlightened by this unique experience. And I am now looking forward to even more experimentation!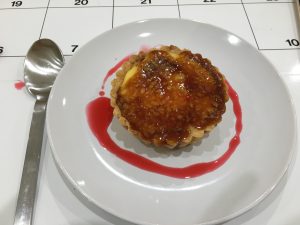 Note: the food was so good I even asked to taste some of the other group's dishes…just delicious…